EvoSwitch provides secure and sustainable data center services, with cloud- and carrier-neutral data centers in Europe and the US. EvoSwitch is home to growing ecosystems of customers around interconnection and hybrid cloud, operating at the edge of the Internet and providing access to public clouds. EvoSwitch enables global and local customers to build their IT infrastructure for growth, creating value for customers and partners alike.
Detailed EvoSwitch Datacenter Info > >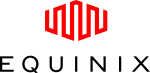 Equinix connects the world's leading businesses to their customers, employees and partners inside the world's most connected data centers in 44 markets across five continents. In the United States, Equinix operates data centers in Atlanta, Boston, Chicago, Dallas, Denver, Los Angeles, Miami, New York, Philadelphia, Seattle, Silicon Valley and Washington D.C.