You can
Open
ports from Windows firewall. Check below -
Go to
- Start Menu
 > Control Panel
  > Change the viewing option (If already not set) Category to "Small icons"
   > Windows Firewall
    > Advance Settings
That's it. Now set the rule or open the port according to your needs. There are two options or more.
Inbound
&
Outbound
are two of them.
(Inbound = Traffics Ingoing to your server)
(Outbound = Traffics are being released from your server)
Similarly, You can
Block
any port using the above options. Just select
"Block The connection"
during the setup.
Screenshot of the difference between "Allow The Connection & Block The Connection" Shown here -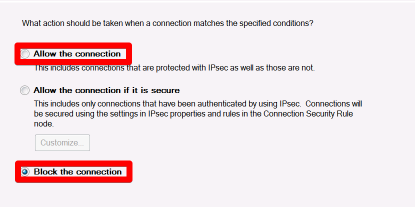 If you want to
Block a Range or Multiple IP Ranges,
Follow the below instrustions -

> Inbound or Outbound (Depends on you)
 > New Rule
  > Custom
   > All programs
    > Protocol type /Any    
Just get in touch with us if you are facing any difficulties with this. :)
Be noted that, some of online's port online status checking sites may not show a real-time info about your server's available opened ports. Don't be misguided. Just open ports properly and start using them for your tasks.
Do not worry, Let us know if you need further assistance.